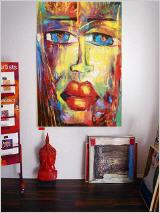 Art Gallery in Berlin
Our sales prices are set at between EUR. 20,- and EUR. 650,- for very small to large-scale works. ART-SALE
Ladies and Gentlemen,

we are delighted by your visit to our virtual gallery and extend to you
our invitation to drop by the current exhibition at our brick-and-mortar venue.

The Idea:
As experienced and written by Jürgen Schaar:
It all started in 1990 with a visit to a gallery in Berlin. There I fell in love with an oil painting by an unknown artist and the desire to possess it took hold of me. Unfortunately, my attempt to purchase it ended in failure – the asking price was prohibitively high. I wanted but simply could not afford the painting. Even today, I would not be willing to spend that kind of money.Serendipity struck – I got to know a young artist right outside the gallery. Our chance encounter and his subsequent support changed my life.We fell into an intensive talk and he invited me to his atelier. Soon I was in possession of a splendid painting which I continue to cherish today - and would not part with for anything in the world.Friends and acquaintances who visited me at the time so admired the vibrant 1.4 m X 1.4 m-size picture, that they asked to be put in contact with him. Call it destiny, accident or just plain luck, in 1995 I met a number of interior architects and designers who were in need of large-scale objects for furnishing purposes.Thus began my building up of contacts to artists and the acquisition of paintings, not single pieces, but 10 to 15 pieces at a time from each artist.

Today interior architects are not our only customers, but also private individuals who coming to our exhibitions are impressed by the high quality and the very low prices.

Why don't you pay us a visit some time!



The Artists:
We represent artists of all kinds, from autodidacts to graduates of the Academy of Fine Arts, many of whom have shown their works at major exhibitions, won art awards and, of course, many still who are working towards these goals.

We are presently working with 30 artists. Unfortunately, we cannot take on further artists at this moment due to the restraints of our purchasing budgets. In their collaborative efforts with us, the artist benefits from the fact that his/her works are not being displayed on a commission basis. We always pay upfront and take the risks upon ourselves.

The Paintings:
One-of-a-kinds in oil/acrylic/combination-technique on canvas/nettle cloth on wedge stretchers– mounted on narrow wood frames. At each exhibition you have a choice of 300 medium to large-scale paintings executed in various artistic styles.

The Prices:
90% of our sales prices are set at between EUR. 95,- and EUR. 650,- for medium to large-scale works (it is actually 100% of our stock at this time - unfortunately, we will not be able to stay at this range for long).

The artists are quite pleased with the arrangement we have worked out for the fact that the rent for the atelier and material costs for new works are assured. Please do keep in mind that 90% of the artists can not live on their art alone.

The Visitors:
Whether it be Berliners or Berlin visitors – all of them are struck by the scale, quality, creativity and range at our brick-and-mortar gallery. Home computer screens do not do justice to the impressiveness of the works.

We do have a few detractors – but on the whole, most of the visitors love the concept – at long last, art for all !!!

The Organizer:
Jürgen Schaar


Bio:
Jürgen Schaar (born 1961) worked in orthopaedics for quite some time, while gradually becoming involved in the field of marketing and advertising, until the day he decided to devote his life and career to the actualization of his idea.

His purchasing decisions are made in conjunction with the advice of art experts.
Events and sales are managed with the help of his team.





... more information:
» http://en.wikipedia.org/wiki/Art_museum#Contemporary_art_gallery

» http://en.wikipedia.org/wiki/Berlin